Sunday School: Wheel-Throwing Group Pottery Class for Beginners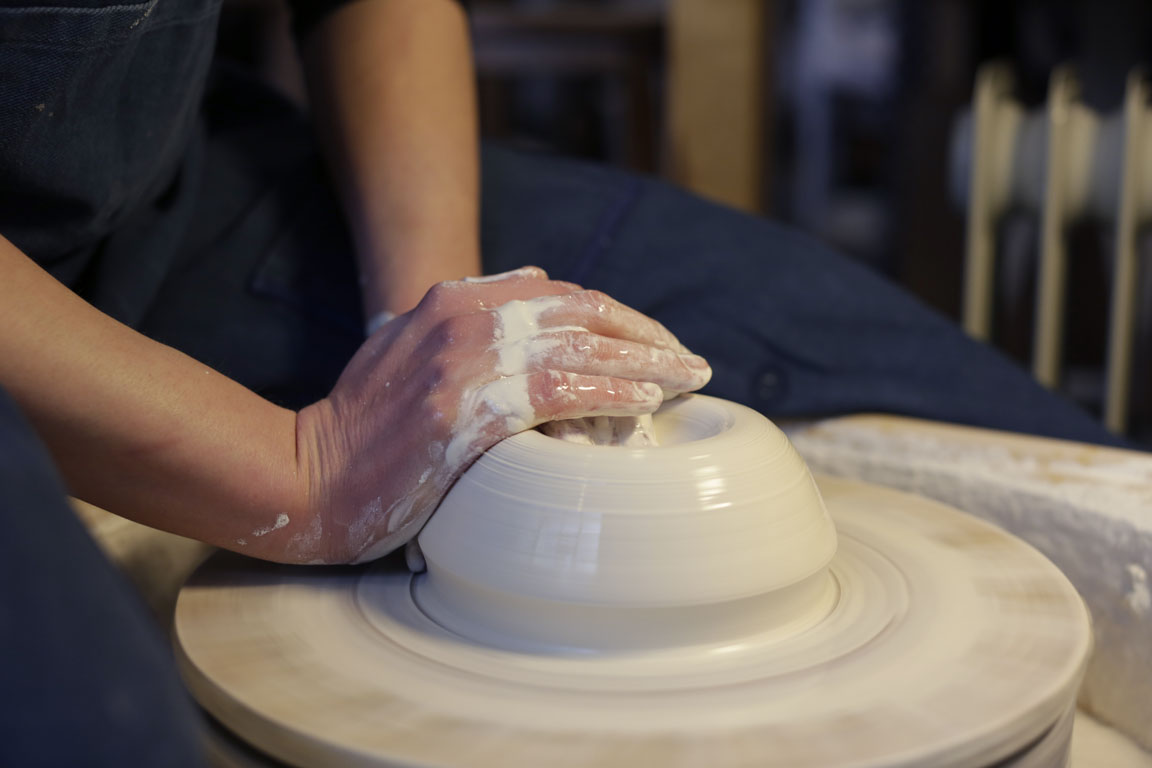 Sunday School: Wheel-Throwing Group Pottery Class for Beginners
2 Hour Pottery Class for up to 4 people
Dates for the next Sunday School group classes (please contact the studio to check current availability):
15 September 1-3pm
13 October 1-3pm
27 October 1-3pm - Fully Booked
10 November 1-3pm
27 November 1-3pm
15 December 1-3pm
These classes are bookable by individuals wishing to take part in a small group wheel-throwing class at the Jo Davies Studio, which can be treated as a taster session in throwing.
These two hour classes are designed for complete beginners or for people in a very early stage with their throwing. This may also mean that you have not done any wheel-throwing for a long time but if you're unsure as to whether or not these classes are for you then please do get in touch with the studio.
These are fun group classes for up to 4 people and will take place at the Jo Davies Studio with one of Jo's highly experienced assistant tutors using Jo's methods of teaching throwing. The Sunday School classes are group classes and not private sessions. If you have a group of 2 or more it is more cost-effective to book onto a private group class - please see Wheel-Throwing Classes for Beginners and/or Master Classes with Jo Davies for information.
Bookings and availability
You are welcome to contact the studio before purchase to check current availability for your preferred Sunday School dates. Alternatively, once you have purchased a class via this page, we will be in touch to arrange a date. .There will be a rolling schedule of Sunday classes throughout the year.
Class size and why it matters
The Classes at the Jo Davies Studio are some of the smallest wheel-throwing classes available with a maximum 4:1 ratio, student to tutor. The reason for this is so that students can make faster progress with the direct help of their tutor quickly. The classes have been designed by Jo in this way because of Jo's long experience with students who came to her workshop after going to large wheel-throwing classes where they were often left waiting a long time for a tutor's attention before being able to move forward. This frustration will never happen in our small classes as the maximum size of a class is 4 students, this means you will make progress faster.
These classes are intended for adults.
The classes take place at the Jo Davies studio where it's also possible to purchase items from the Jo Davies Collection.
What's included:
All materials

All tools and equipment are provided

Firing and glazing are included but you may want to glaze your work yourself so just let your teacher know on the day.

Tea
Things to consider ahead of the day:
You may want to bring an apron

Wear clothes you don't mind getting splashed - all materials wash out easily though.

We prefer our students to wear trousers or shorts rather than skirts because of the practicalities of throwing at a potter's wheel (skirts can be a little physically restricting for this activity) but if you're happy then we're happy.

Arrive with short fingernails - this is very helpful when throwing and long fingernails can really get in the way of your enjoyment of the process.

Please plan your journey to the studio so you can arrive on time. Classes cannot go on beyond the allocated time and we want you to have the maximum amount of enjoyment from the class.

The Class will take place at the Jo Davies Studio at the Chocolate Factory, Farleigh Place, London, N16 7SX. MAP
Cancellation Policy:
Your place on a class can be cancelled by you up to 7 days before the date of the workshop but it will only be possible to refund 50% of your fee, if cancelling after this cut off you will forfeit 100% of your fee. This is because we often have to turn away customers when our class schedule is fully booked and we don't like to have gaps if we don't need to as we want to make sure as many people as possible can enjoy a class here at the studio.
Cancellation of a class by the Jo Davies Studio will incur a full refund or postponement of the class according to the preference of the customer.