Bespoke Wheel-Throwing Pottery Course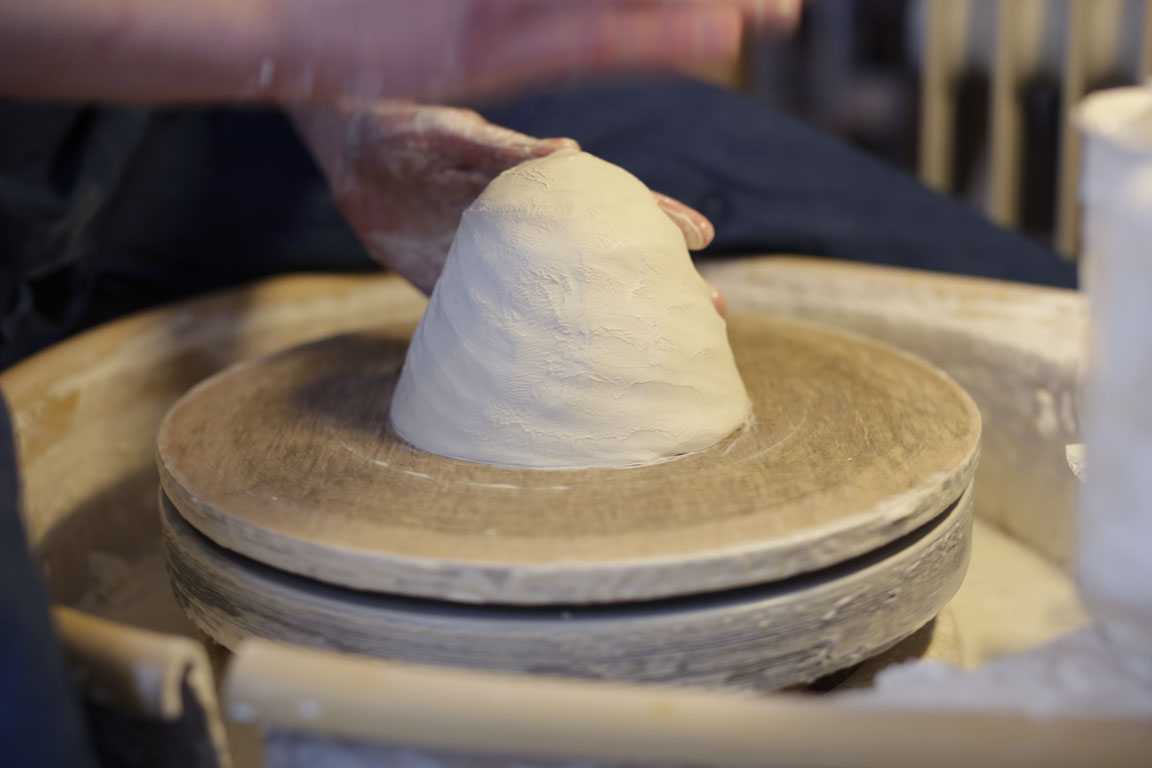 Bespoke Wheel-Throwing Pottery Course
1 - 4 students
Timings to suit you: Monday-Saturday daytime, Monday-Friday evenings
Build your own short series of 2-hour classes at times that are convenient to you. Whether you're a complete beginner or further along with your wheel-throwing and in need of some more practice, we can design the classes to suit your learning requirements, from tailoring a suggested beginners' programme to tackling a specific task or problem.
What you could learn:
2 Classes - wheel-throwing basics, including centering and throwing a cylinder. In the second class you will turn the pots you have made to really tighten the shape and finish them off properly. This is done by working on the base of the pots by placing them back on the wheel and shaping them with metal tools.

3 Classes - As well as the above there will be additional time to practice your throwing and try bowls in the first two classes, as well as being able to turn everything you have made in the third class.

4 Classes - Even more throwing practice! Extend your skills into trying to throw bottle or narrow necked shapes that can be used as vases as well as turning your pots.
All items made in these classes will be fired and glazed by the studio but if you would like to glaze the items yourself during your classes this should be discussed at the beginning .
These classes will take place at the Jo Davies Studio with one of Jo's highly experienced assistant tutors using Jo's method of teaching throwing. The Jo Davies Studio is a professional studio set inside the Chocolate Factory Workshops in East London - a beautiful place for a course like this.
Class size and why it's important
The Classes at the Jo Davies Studio are some of the smallest wheel-throwing classes available with a maximum 4:1 ratio, student to tutor, so that students can make faster progress with the direct help of their tutor quickly. The classes have been designed by Jo in this way because of Jo's long experience with students who came to her workshop after going to large wheel-throwing classes where they were often left waiting a long time for a tutor's attention before being able to move forward. This frustration will never happen in our small classes as the maximum size of a class is 4 students, meaning you will make progress faster.
Saturday Classes:
Classes on Saturday may be booked every week at the following times: 9:30-11:30am / 12:30-2:30pm / 3-5pm
Weekday Classes:
Weekday classes are available at flexible times, including evenings.
You are welcome to contact the studio prior to purchase to enquire about the timing of the class in order to check availability for the dates and times you would prefer. We would then respectfully request that, once class dates and times have been agreed by email or over the phone, a customer purchases the relevant classes within 48 hours in order to confirm the booking. We will then send you an email confirmation.
Alternatively, once you have purchased classes via this page, we will be in touch within 48 hours or less to arrange times with you. This purchase can also be used as a gift for someone else - please get in touch with us to confirm this.
These classes are intended for adults.
The classes take place at the studio where it's also possible to purchase items from the Jo Davies Collection.
What's included:
All materials

All tools and equipment are provided

Firing and glazing are included but you may want to glaze your work yourself so just let your teacher know on the day.

Tea
Things to consider ahead of the day:
You may want to bring an apron

Wear clothes you don't mind getting splashed - all materials wash out easily though.

We prefer our students to wear trousers or shorts rather than skirts because of the practicalities of throwing at a potter's wheel (skirts can be a little physically restricting for this activity) but if you're happy then we're happy.

Arrive with short fingernails - this is very helpful when throwing and long fingernails can really get in the way of your enjoyment of the process.

Please plan your journey to the studio so you can arrive on time. Classes cannot go on beyond the allocated time and we want you to have the maximum amount of enjoyment from the class.

The Class will take place at the Jo Davies Studio at the Chocolate Factory, Farleigh Place, London, N16 7SX. MAP
Cancellation Policy:
Your place on a class can be cancelled by you up to 7 days before the date of the first workshop but it will only be possible to refund 50% of your fee, if cancelling after this cut off you will forfeit 100% of your fee. This is because we often have to turn away customers when our class schedule is fully booked and we don't like to have gaps if we don't need to as we want to make sure as many people as possible can enjoy a class here at the studio.
If you need to re-schedule your class then you can do this up to 7 days prior to the day.
Cancellation of a class by the Jo Davies Studio will incur a full refund or postponement of the class according to the preference of the customer.